The Top 10 Reasons Stamps' Fans should enjoy Rider Fans:
10. Beer Sales. Hello? If Riders' Fans drank rain water instead of beer Calgary would never have flooded.
9. Riders' Fans start early . . .
8 ...and even get their pets' involved
7. Rider Fans can give you Banjo lessons (check
Wikipedia
if you are not sure why)
(Thanks to
Updated News
for the picture.)
6.

Green

and

Red

in the stands isn't ugly - It's just like Christmas! (and a lot better than Red and Gun Metal Grey!)
Courtesy of the Vancouver Sun
5. Annoyed by Rider fans coming over? Nobody complained when these
Sask Guys
came over to help with that flooding you had. . . At no charge. . . 'Cause that's what neighbours do.
4. We have a trash talking premier for a leader:
3. You can count on Riders Fans attend regardless of the price of Oil.
2. Rider Fans stand by their team for good
2007 Grey Cup. Courtesy of the Edmonton Journal
and bad: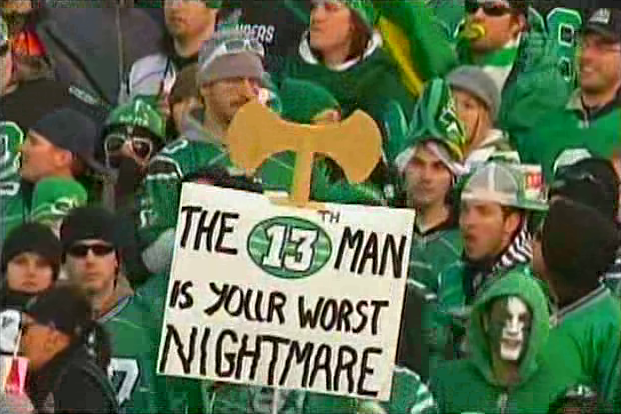 2009 Grey Cup - Courtesy of matthew.mennoboy.com
1. Rider Fans are the most innovative, informed of any CFL Fans - just ask'em!
http://www.howgreenareyou.ca/
Happy Friday Calgarians! (because by the end of Saturday the joy will be over!)
Remember - every time you share a Friday Funny an Angel gets a day off to see the Grey Cup.